St Patricks Day Wreath
Irish or not, it is fun to celebrate St. Patrick's Day. 
Is your St Patricks Day Wreath Hanging?
I got mine made, and up!
St Patrick's Day Wreath
Not really sure St Patrick had much to do with leprechauns and beer or even the color green for that matter. 
According to Wikipedia the original color associated with St Patrick was blue.  He was, however associated with a shamrock.  He used the shamrock to explain the Holy Trinity.  St Patrick died on March 17, 461.
You can get more information and history about St Patrick of Ireland at Catholic Online.
I made a very simple St Patrick's Day wreath.

 Because I love flowers I chose my basic design to center green flowers. 

 
| | |
| --- | --- |
| Simple to make I started with an oval grapevine wreath form one of my favorites because it adds natural beauty to the design. | |
I found some satin ribbon with two shades of green and made a bow and tied it at the top of the grapevine.
I used two types of bright green flowers that matched the bow and alternated them along the bottom of the grapevine. Then to break up the green and add a little more texture I randomly added some small white flowers.  Two three dimensional glitter shamrocks added to the sides to add some sparkle and pull together the theme of St Patrick's Day.
There is no glue I simple stuck the stems of the flowers into the grapevine and tied the bow to the top.  This makes the wreath one very easy to put together and two easy to rearrange.  This wreath was not the original one I made.  And if I change my mind can be easily changed. 
That is also why I like the grapevine wreath form so much is, it is so easy to re-purpose.   I could very easily remove the shamrocks and add some pink flowers and have a new look ready for spring.  
---
Terry
Shalimar, Florida

Shamrock Bow Wreath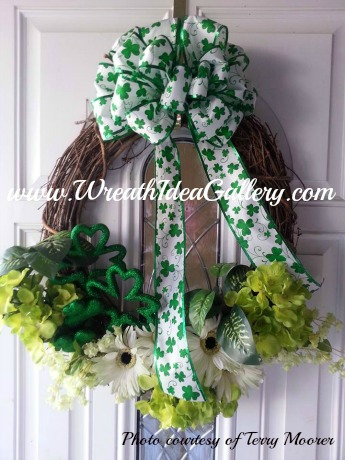 I just used things I had on hand to make this Grapevine St. Patrick's Day Wreath, and it only took a few minutes to make. ~Terry
---
St Patrick's Cross
My focal point  for this St Patrick's Day Wreath is the welcome cross. You can use fuzzy stick and hot glue to attach to the grapevine form.
Then added green, white and cream Dahlias and a sprig of berries. Just hot glue the stems and stick them into the grapevine.  
Done and ready to hang.











Home Page

›

Holiday Wreaths

› St Patrick's Day Wreath


Back to Top







I may earn a commission by referring you to some products on my site.  See my Disclosure Policy.




Home | Site Map | About Me |Contact

Privacy Policy | Disclosure Policy