Spring Wreath
Spring is in the air time to get the
Spring wreath on the scene.
Hydrangea Wreath 

Using silk white hydrangeas and alternating simple yellow flowers for accent and texture, I wove onto a simple grapevine wreath form. 

 This made a fresh wreath to hang on my door.

Another Hydrangea wreath made for Easter but can be transformed to a a spring wreath by removing the eggs and bunny.




Put those winter blues behind you and get ready to jump into this new season with something cheerful to brighten your front door, office, or living space.  

This is the time of rebirth and re-emergence of color. Flowers blooming, new beginnings, and new colors are a great welcoming signs that winter is past us and spring has sprung. 

This is the season so many flower combinations and colors come alive in the endless possibilities for front door wreaths. 



A few items that can be fun to use in your decorating:

Birds

Butterflies

Bicycles

Flowers

Bird Nests

Bird Houses



What a beautiful gift.
The gift that keeps on giving, this wreath was at my dad's house and when I asked him where it came from he said Deb Sjoberg, a very good family friend, made it.  I contacted her to find out the particulars and here is her reply….
      " I made when we (my family) stayed at the house for Easter couple   of years ago. I knew that Pete and Judy would like a new wreath and it was a good way to thank them for letting us stay there." 
Thank you Deb for making the wreath and allowing me to share it on my site, it is beautiful!
Deb incorporated the birds and bird nests into a beautiful silk flower wreath arrangement of bright colors, a little green vine and a bright yellow bow just bursting with color on a natural grapevine form.
Terry
Shalimar Florida
Spring Wreath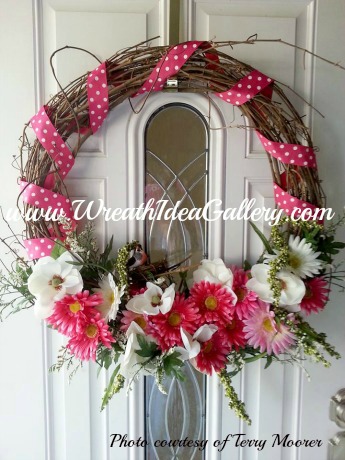 Simple or  spectacular we would like for you to share your wreath ideas and allow others to get inspired. 
Interesting foundations you might consider for you Spring Wreath:
Garden Hoses

Straw Hats

Bicycle Tires

Umbrella
Say Good-Bye to winter and make a spring wreath to hang on your door.  
Are you getting ready for Spring?
Home Page
› Spring Wreaths
Back to Top