Christmas Wreaths
Enjoy the Christmas Wreaths... 
and enjoy the Christmas Spirit reflected in this beautiful collection. 

All Wreaths are homemade made by wreath designers like yourself and shared here for all to enjoy.
Merry Christmas!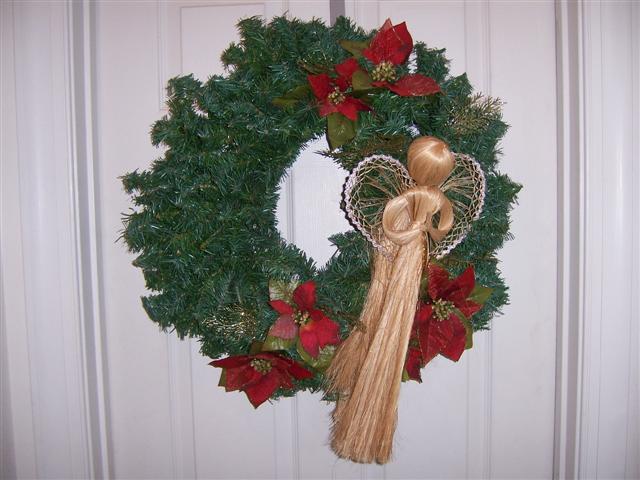 This Christmas Angel Wreath is one of my own, made by my sister several years ago. I love angels and poinsettias.
It is a very simple wreath made on a evergreen wreath form with a few groups of poinsettias and a Christmas angel.
Still looks as beautiful today as it did the first year she made if for me.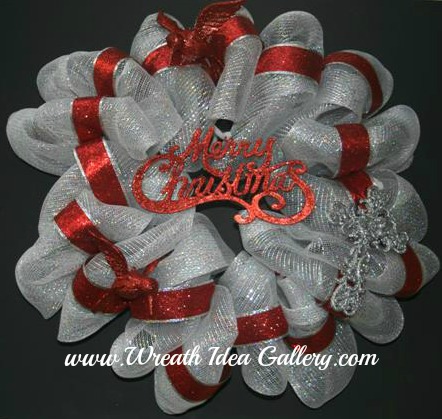 Quick and easy deco mesh for Christmas.  Made on a 12 inch box wire base with white deco mesh with a silver thread going through it. Put the red and silver ribbon on at the same time and then using white fuzzy sticks added the cross and Merry Christmas and hot glued the birds in place.  This wreath was made to be outside so I sprayed the embellishments with a clear acrylic spray before adding them to the wreath.  Held up well.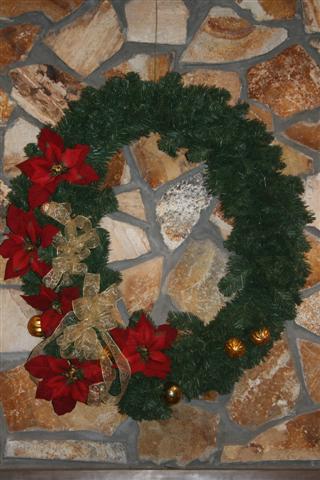 This Poinsettia Christmas Wreath is Simple yet Stunning.This wreath is my dads and hangs over his fireplace.
This was also made by my sister and was originally made as a decoration for his Christmas party.  
This is a pretty good size wreath. She started with a oval evergreen wreath form then added red poinsettias, gold Christmas balls and a gold ribbon.
Perfect for the party and has been enjoyed each year since.
---
Reindeer 
So who is waiting for you, this cute reindeer.  Great project for all ages.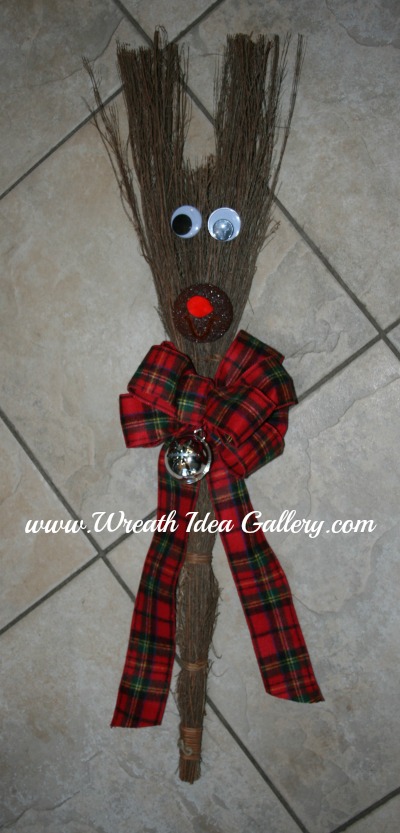 Supplies:

Broom
Large Moveable Eyes
Wide Wire Ribbon
Bell
Fuzzy Sticks (Love these things)
Stryofoam Ball
Brown Spray Paint
Small Red Pom Pom
| | |
| --- | --- |
| | Make a bow securing  the bell into the bow with a fuzzy stick and then fasten around the broom. |
Styrofoam ball cut end off and spray with brown spray paint.  Don't get to close or you will damage the styrofoam.  Glue just above the bow for a snout.
Hot glue red pom pom for nose and made a smile with the brown fuzzy stick.  
Hot glue large moveable eyes in place.
Cut a piece of the broom above the eyes to form the antlers.
---
Snowman
This life size snowman wreath will be a great welcome to your front door.  Made with 3 different size white deco mesh wreaths. See how easy this is just follow these no snow required directions and he will be on your door for the holidays.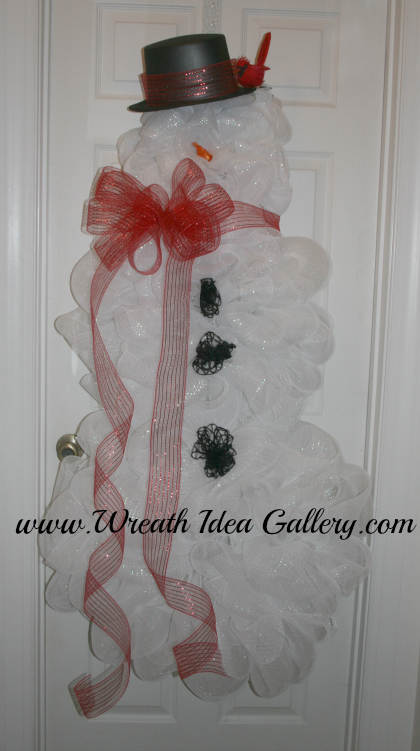 ---
Christmas Fabric Wreath
Terry made this beautiful material wreath time consuming but worth it, so  beautiful.  See how she made this punch fabric wreath.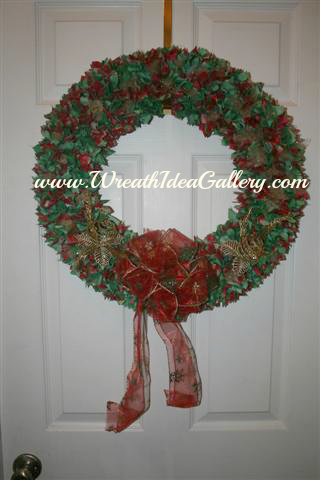 Merry Christmas Burlap Wreath  
 by Rachelle Kane
(Pennsylvania)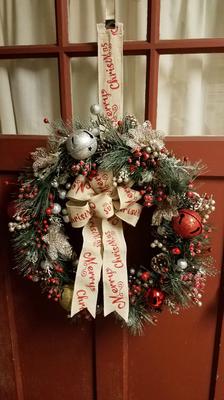 Tis' the season to make some wreaths!
This particular wreath is a gift to my soon to be mother-in-law. She requested that I make her a new Christmas wreath for her front door, but she needed it very quickly. So, I gladly excepted the challenge.
I began with a quick shopping trip to Lowes/Walmart/Micheals. Since this wreath will see some weather, I chose a grapevine wreath (18 inch). Remember guys and gals, your wreath will grow significantly with decor. I also purchased silver dusted pine,snow dusted cranberries, gold and white dusted pine cones,large jingle bells (in gold silver and red),gold poinsettias,small and large bulbs (in red,silver and gold),lastly Merry Christmas burlap ribbon. I wanted to make this wreath within a 2 day period so I didn't have time to "shop around for best prices" So, I spent approximately $65 on all materials. The grapevine wreath was almost half of the cost, so not to bad.
I began by hot gluing the pine around the wreath. Then I placed all of the smaller items, like the silver ,red,and gold ball branches throughout. Very sporatic, just filling in the spaces. Next, I like alot of cranberries...small ,large,snow covered,etc. So that was my next step. Finishing the wreath up with the larger items. Like the gold poinsettas,pine cones,bulbs,and jingle bells.
I got myself a spool of wired ,2 1/2 in x 12 ft burlap ribbon to create the bow and the hanging strap. I created the bow using the 7 loop method and wrapped the center with wire. that will go very last,set aside for now. Next, is the hanging strap. Which is 36 inches long. Choose where you would like the top center of your wreath to be, and wrap the ribbon under all decor right against the grapevine. Pull even and overlap about 2 inches,and staple, for now. Next cut a small 1 inch slit across for the door wreath hanger to come thru.Grab your glue gun and glue the 2 peices together all the way down to the top of wreath. This will enforce the strength of your strap, and will be sure to withhold the weight of our wreath. You can remove your 2 staples now. My sewing machine is down or I would have sewed a few darts around the 1 inch opening . Lastly, take a piece of wire twice as long as your wreath. feed it thru the right side thru the center and out the left side of your wreath. Pull till equal excess on either side. You should have enough to wrap around the left and ride sides,twice. and just weave the end back into the grapevines. This will create a space for your beautiful bow to hang in the center of your wreath.
Last step, is to take some thin wire and feed through the already existing wire on the back of your ribbon. Twist the ends very tightly around the horizontal wire running through the wreath. Voila!!! Fluff your bow to your liking and hang on your wall,wreath hanger,or pull end of strap to top ledge of your front door and enforce with a few thumb tacks.
I hope you love it as much as I do, Thank you for your interest.
Happy Holidays and God Bless!!











Home Page

› Christmas Wreath Ideas


Back to Top







I may earn a commission by referring you to some products on my site.  See my Disclosure Policy.




Home | Site Map | About Me |Contact

Privacy Policy | Disclosure Policy










Powered by Site Build It!



Home Page › Holiday Wreaths › Christmas Wreaths