Mardi Gras Wreath
Mardi Gras Wreath, fun to make and adds decoration to all the festivities.  Can't have to many decorations for this occasion. 
Mardi Gras colors are purple, green, and gold.  
Crowns, masks, feathers and beads are items usually associated with and used to decorate for the occasion.
---
Tulle Mardi Gras Wreath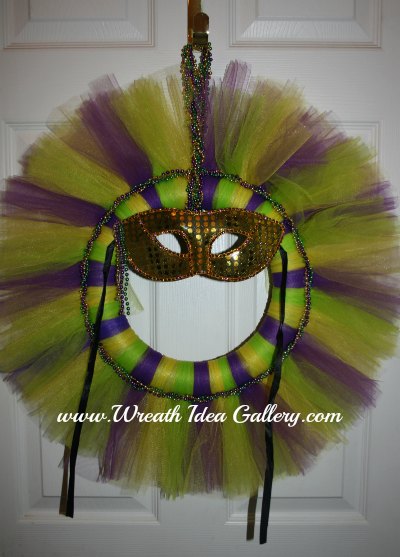 Mardi Gras Tulle Wreath
This festive tulle wreath is very easy to make.  
Materials you will need:
Tulle- 6 inch wide and I bought them in 25 yard spools in Purple, yellow or gold, and green.  *Did not use all of each color.  so if you are making this wreath but not using 3 colors you may not need that much.  
12 inch styrofoam ring
scissors
17" x 6" piece of cardboard
beads
mask
hot glue gun 
The first thing you will need to do is cut your tulle. I cut mine into 17" strips. This gives you a finished wreath about 22" in diameter, which fits nicely on a 30" door.  
To make this easier and faster I cut a scrap  of cardboard into a 6" by 17" piece.  
Then if you wind it around the board 10 times and cut the ends you will have 20 cut at a time.  Very time saving.  
For this Mardi Gras Wreath I used 36 of each color, 108 total.  Your number will depend on how tightly you push your ties together, but should be pretty close.  
I clipped my colors together with a clip to hold them in place.  I am using chip clips.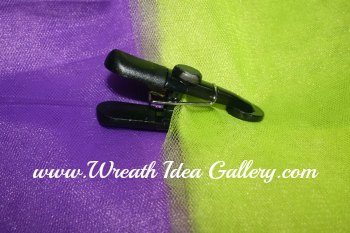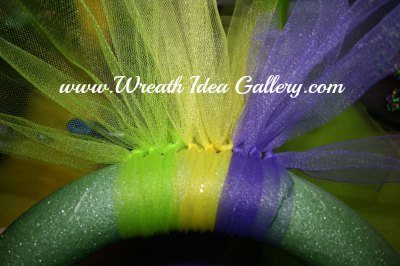 You just tie them on. Just like the first step in tying your shoe, do it twice to make a knot.
I tied my colors on in groups of 3 and pushed them together pretty tight and made it to where I had the same number of sets of each colors and so the form was not showing.
Then I had 2 sets of braided Mardi Gras beads.  I cut one to fit around the outer part of the form and glued it in several spots all the way around.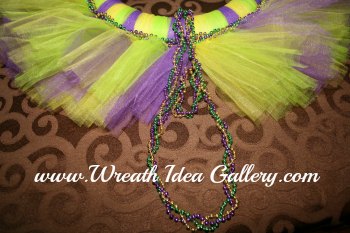 I took the second strand of beads and separated my tule and looped the beads to make a hanger.
I had a few inches of beads cut off of the first strand, and I hated to just throw them away, so I glued them to the side of the mask.  You can never have to many beads.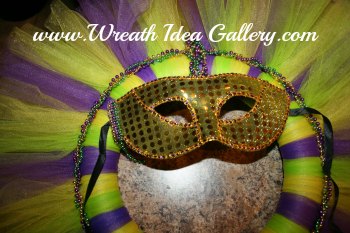 Then glued the mask to the wreath so the mask ties hang down the sides of the wreath.  
And there you have it, a fun and easy Mardi Gras Wreath ready to hang.
---
Mardi Gras Wreath
Masks & Deco Mesh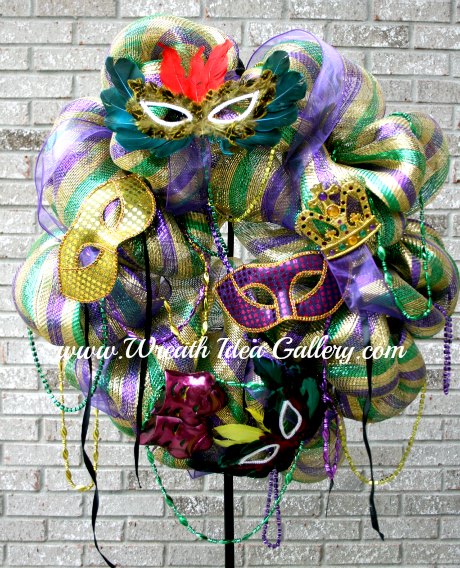 How much fun is this.
Purple, gold & green multi colored deco mesh.  Attached to a Wire wreath form with gold fuzy sticks.
Purple wire edge ribbon added.
| | |
| --- | --- |
| Most of these beads and masks I got at the Dollar Store and picked up the crown and double face mask at a local craft store | |
| I attached the beads in back and then hot glued some to them in place in front to make them hang where I wanted them.  Glued on the masks and it was ready to hang up for Fat Tuesday! | |
Happy Mardi Gras!
Back to Top